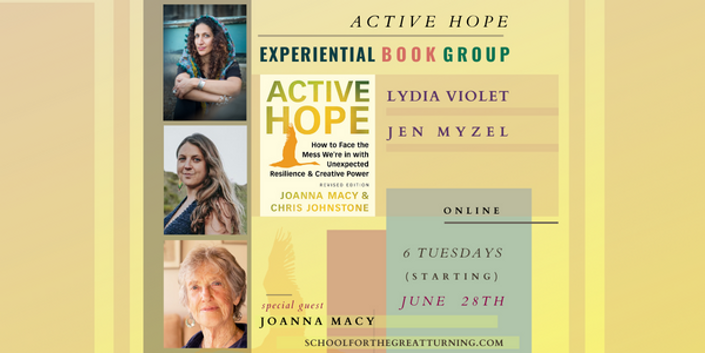 Active Hope: New Edition Book Group
with Lydia Violet, Jen Myzel, & special guest Joanna Macy
Enroll in Course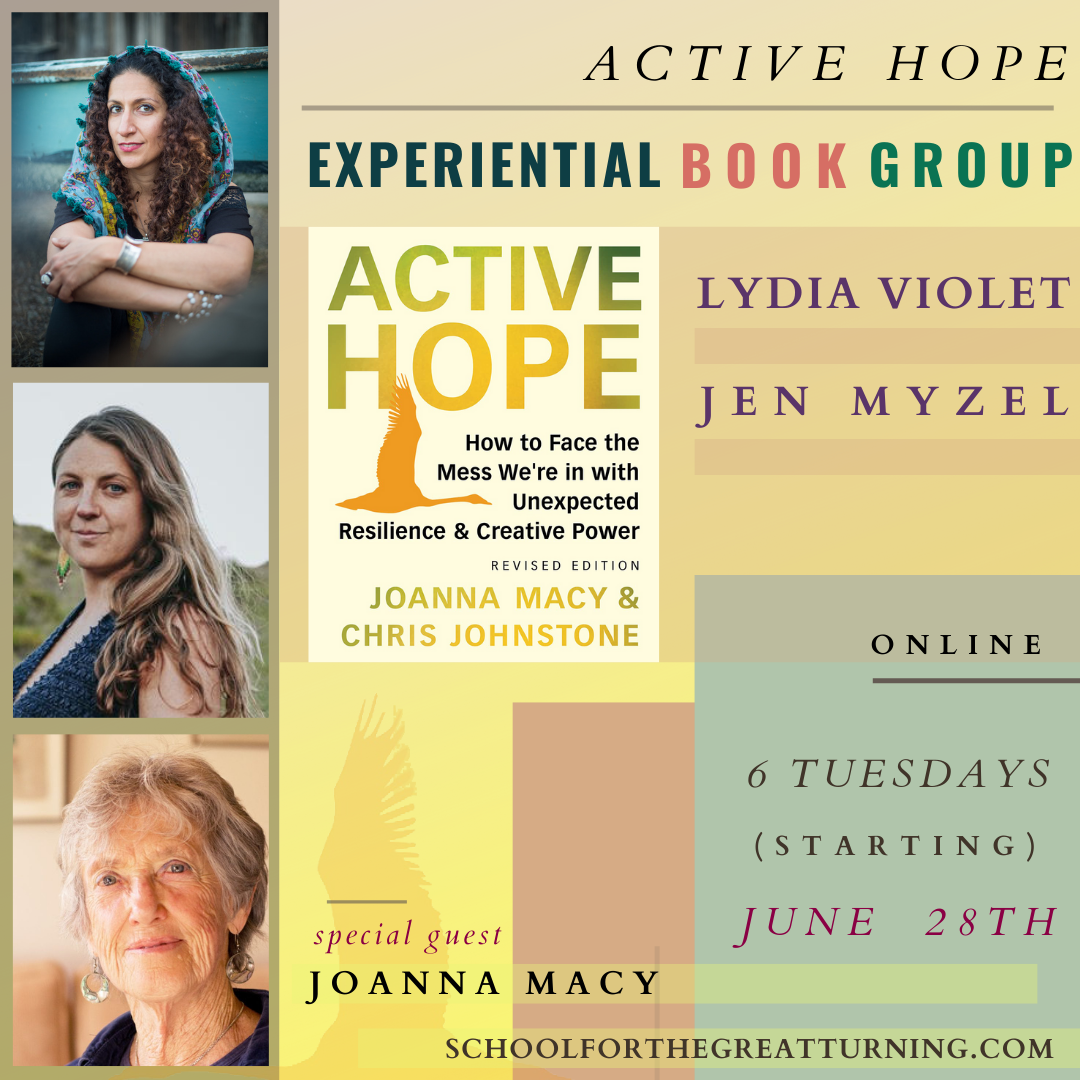 ---
Active Hope New Edition Book Group
with Lydia Violet & Jen Myzel
& special guest Joanna Macy
:: Registration will be capped at 50 participants ::
Tuesdays : 5-7 pm PDT/8-10pm EDT
***NEW START DATE***
June 28- August 2, 2022
Book release date June 14th, pre-order at
---
"Books about social and ecological change too often leave out a vital component: how do we change ourselves so that we are strong enough to fully contribute to this great shift? Active Hope fills this gap beautifully, guiding readers on a journey of gratitude, grief, interconnection, and, ultimately, transformation."
— Naomi Klein, author of This Changes Everything
---
Join us as we read the newly updated Tenth Anniversary Edition of Active Hope: How to Face the Mess We're In with Unexpected Resilience and Creative Power.
Joanna Macy and Chris Johnstone offer us a worldview, community, and practices that help us look at the challenges we face straight on and be unafraid of the suffering of our world. Through our beloved elder Joanna Macy's 50+ years of scholarship in systems theory, deep ecology and Buddhism, this body of work, coined the 'The Work that Reconnects', is a radical gift and tool belt to us in this time of great uncertainty. Let us feel unalone in our pain for the world–and remember that our despair, outrage, and numbness, is actually a sign of our collective health-it is an alarm. We are part of this living body of Earth, and our pain is our power if we learn to harness it, transform it and see it for what it is.
---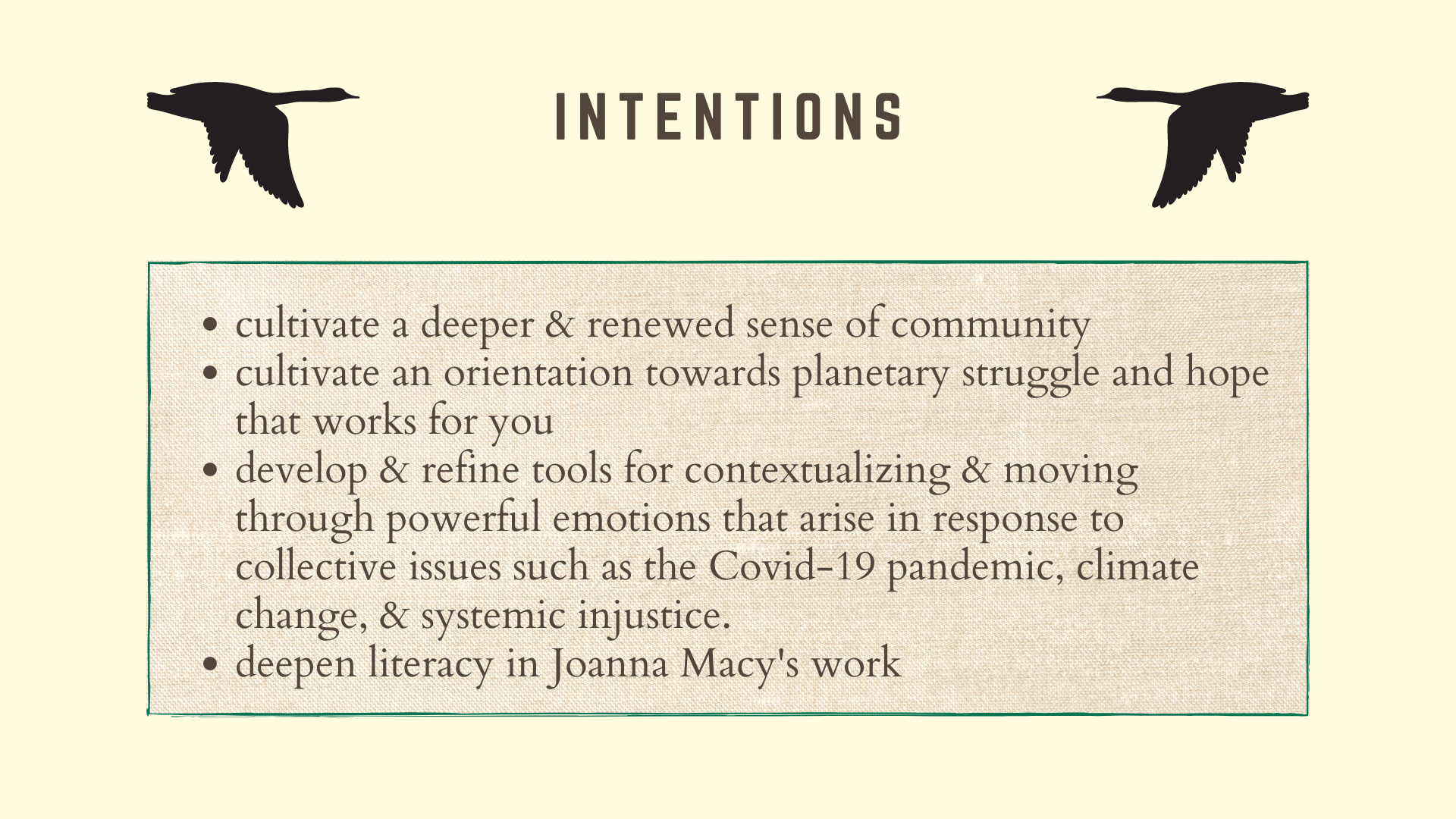 ---
The power of a book group is that we do not have to face these challenges alone. And when we realize that we are just one part of the web of humans who are dedicated to life and liberation, we find strength and resilience in each other. The idea of Active Hope is not that we have to know for sure there will be a desired outcome, but rather that we take steps towards the Great Turning in every moment because hope is an action–it is not passive. As we act, as we heal, as we reconnect, that is where we find hope. We experience hope through the changes we make in ourselves, in our communities and in our world. The teachings of Active Hope, rooted in the wisdom tradition of Buddhism, encourages us to find the balance between compassionate action and wisdom. The wisdom is that the intelligence of life is greater than anyone can know or control, and that we are a humble yet integral part of that web. So we learn how to rest into what is, while also taking daily steps towards what we want to see for the future.
"Joanna Macy is one of the great teachers of this age….It's hard to think of a more important task than to empower us ordinary folk with tools that allow us to engage with the monumental challenges that confront us — tools that nourish our creativity and bolster our confidence and resilience. If you want to serve the living Earth but don't know how, if you feel overwhelmed by the magnitude of the task ahead, if you want to find the part that only you can play in the 'great work,' please read this book."
— John Seed, OAM, founder of the Rainforest Information Centre
This Active Hope book group will consist of group discussion of the readings, teachings by seasoned facilitators Lydia Violet Harutoonian and Jen Myzel, interactive Work That Reconnects Practices, and a visit in our final session from our author and guest teacher, Joanna Macy. Active Hope is an accessible, easy-to-read, powerful transmission of Macy's teachings. The book and this group will follow the Spiral of the Work that Reconnects from Gratitude to Honoring our Pain for the World to Seeing with New Eyes and Going Forth, offering interactive practices to integrate the material along the way.
---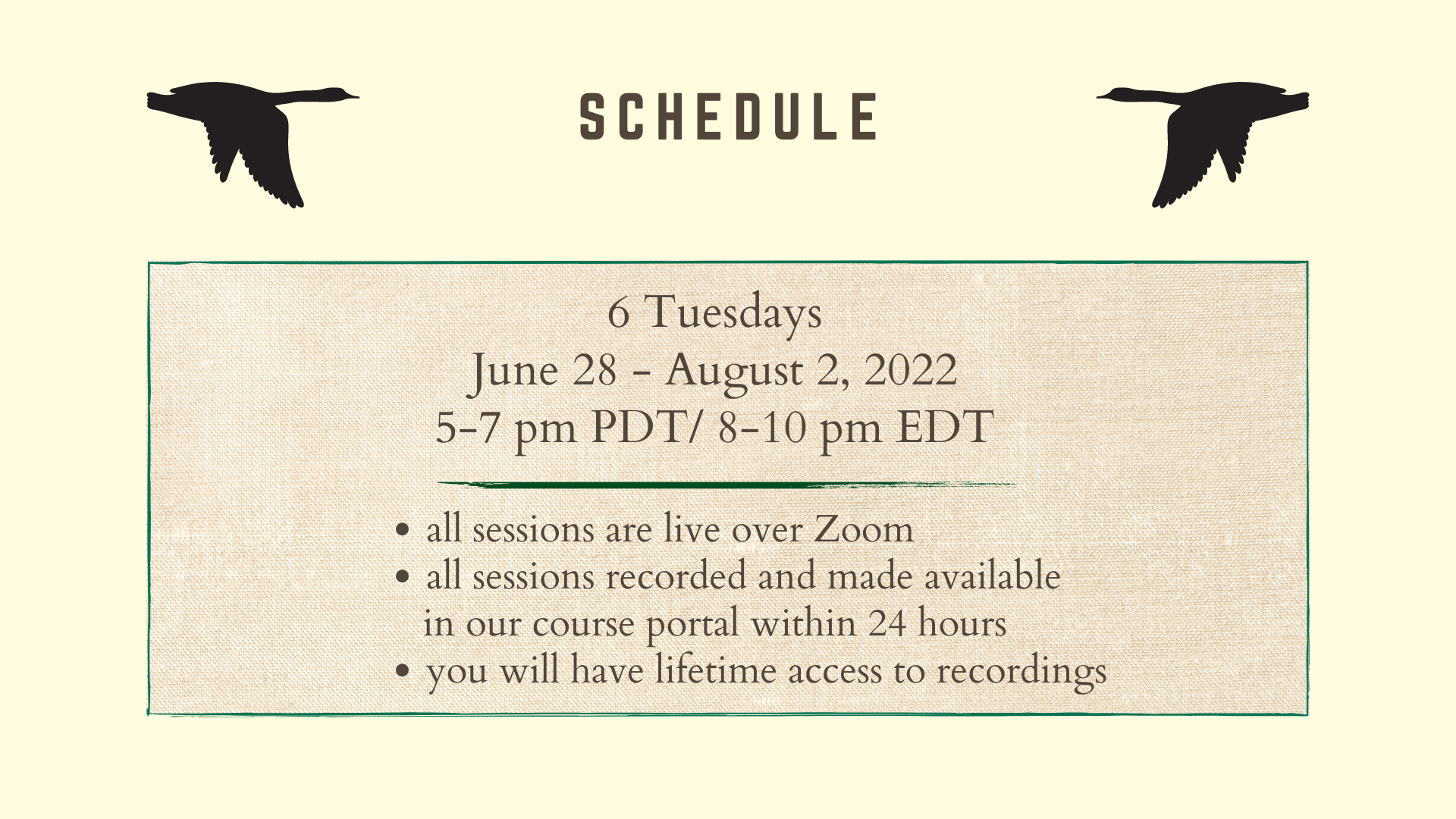 ---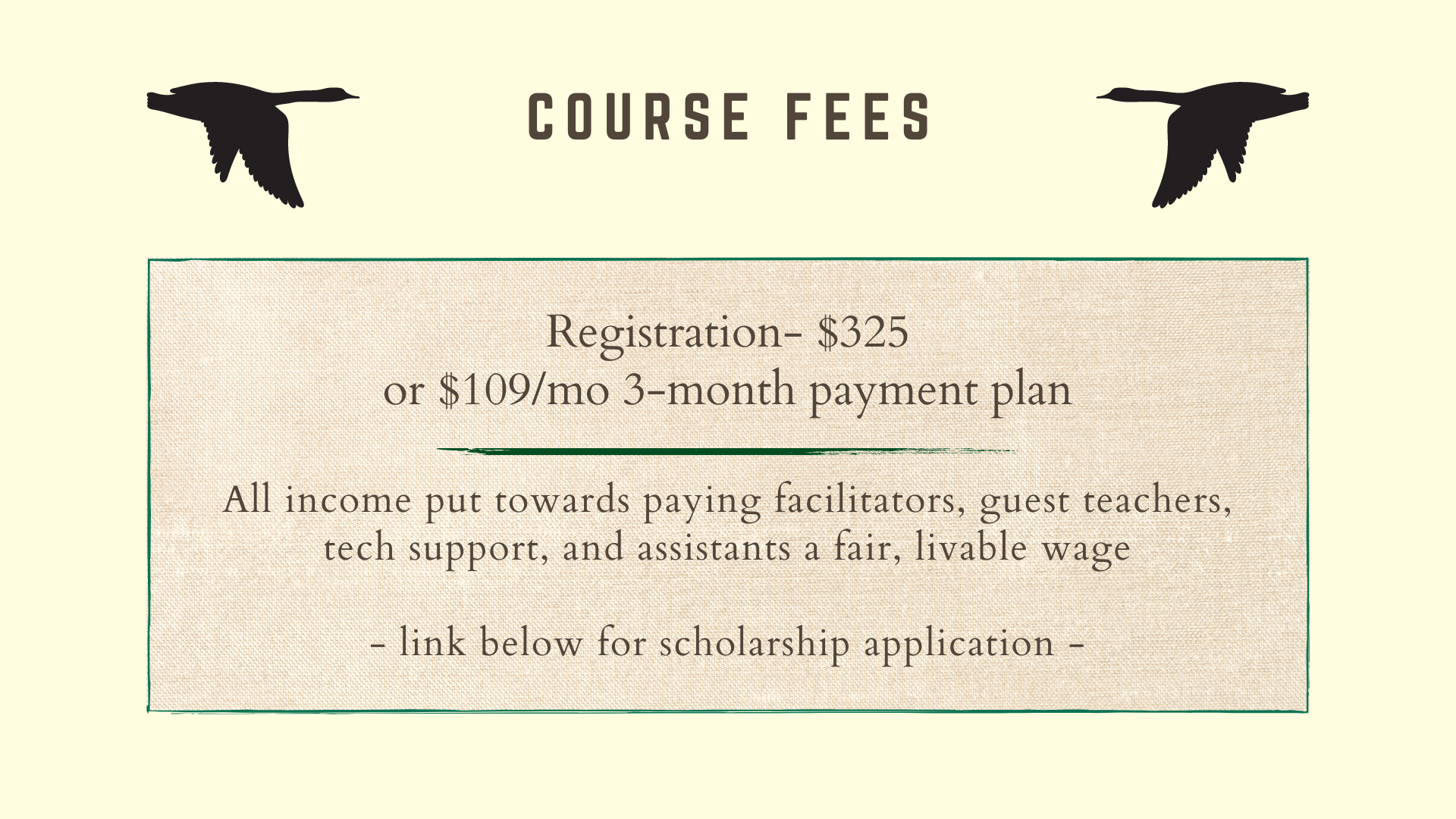 ---
For Scholarship Inquiries, please fill out our simple application at https://forms.gle/AKB4e4yVVxFh1mrv7 and we will get back to you shortly.
Please feel free to send any question to [email protected]
About Our Author & Guest
---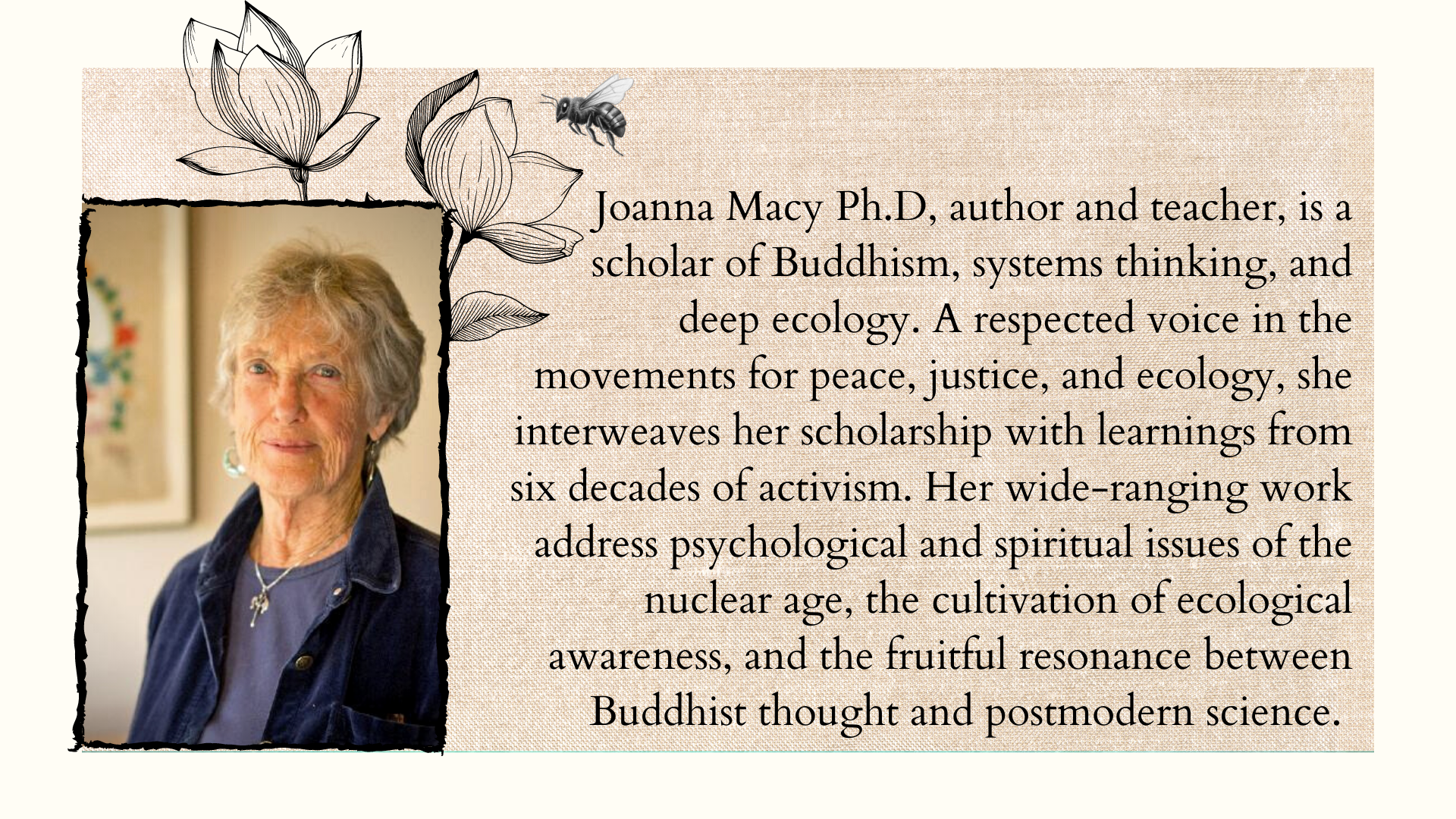 ---
About Our Facilitators
---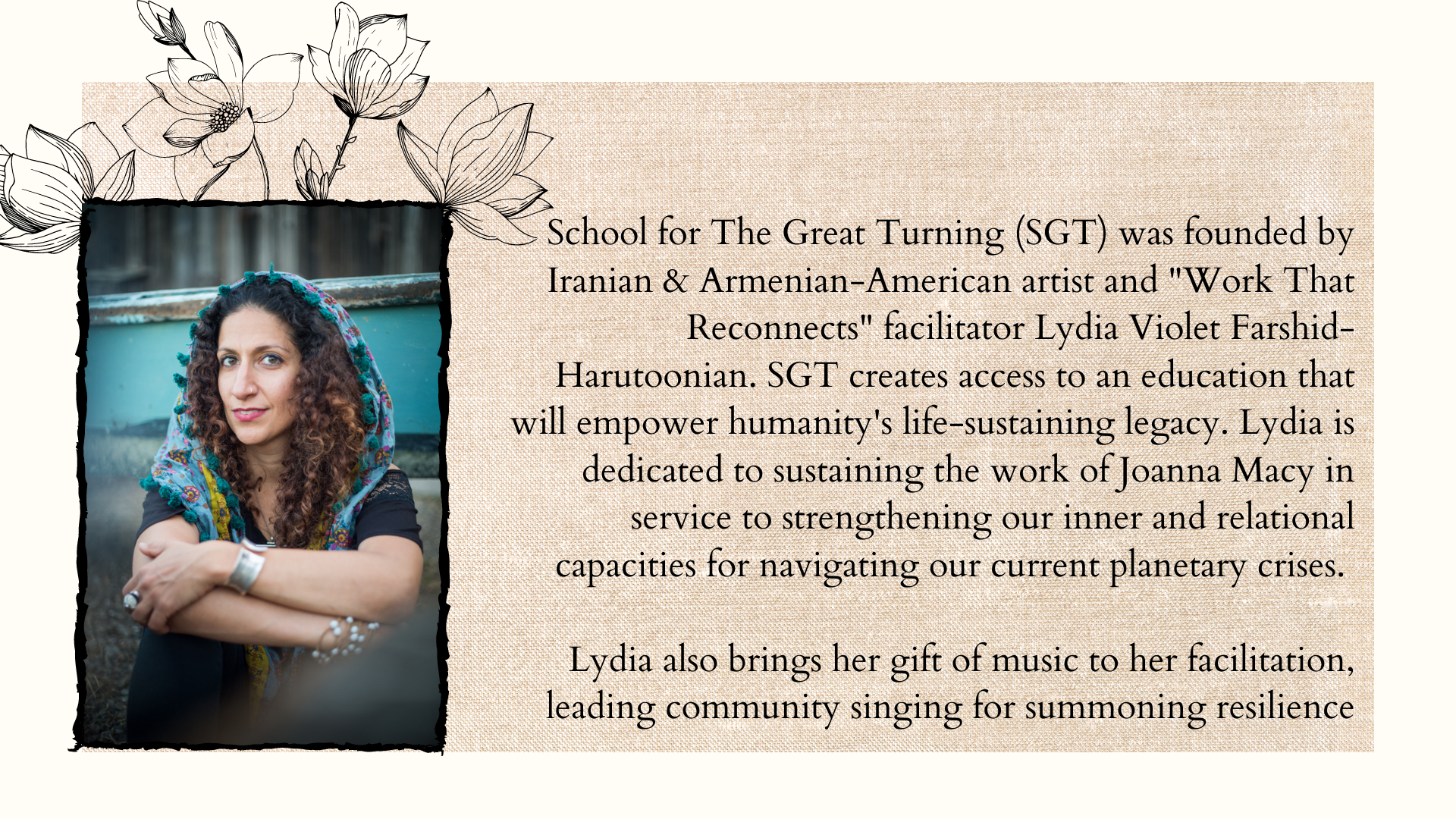 ---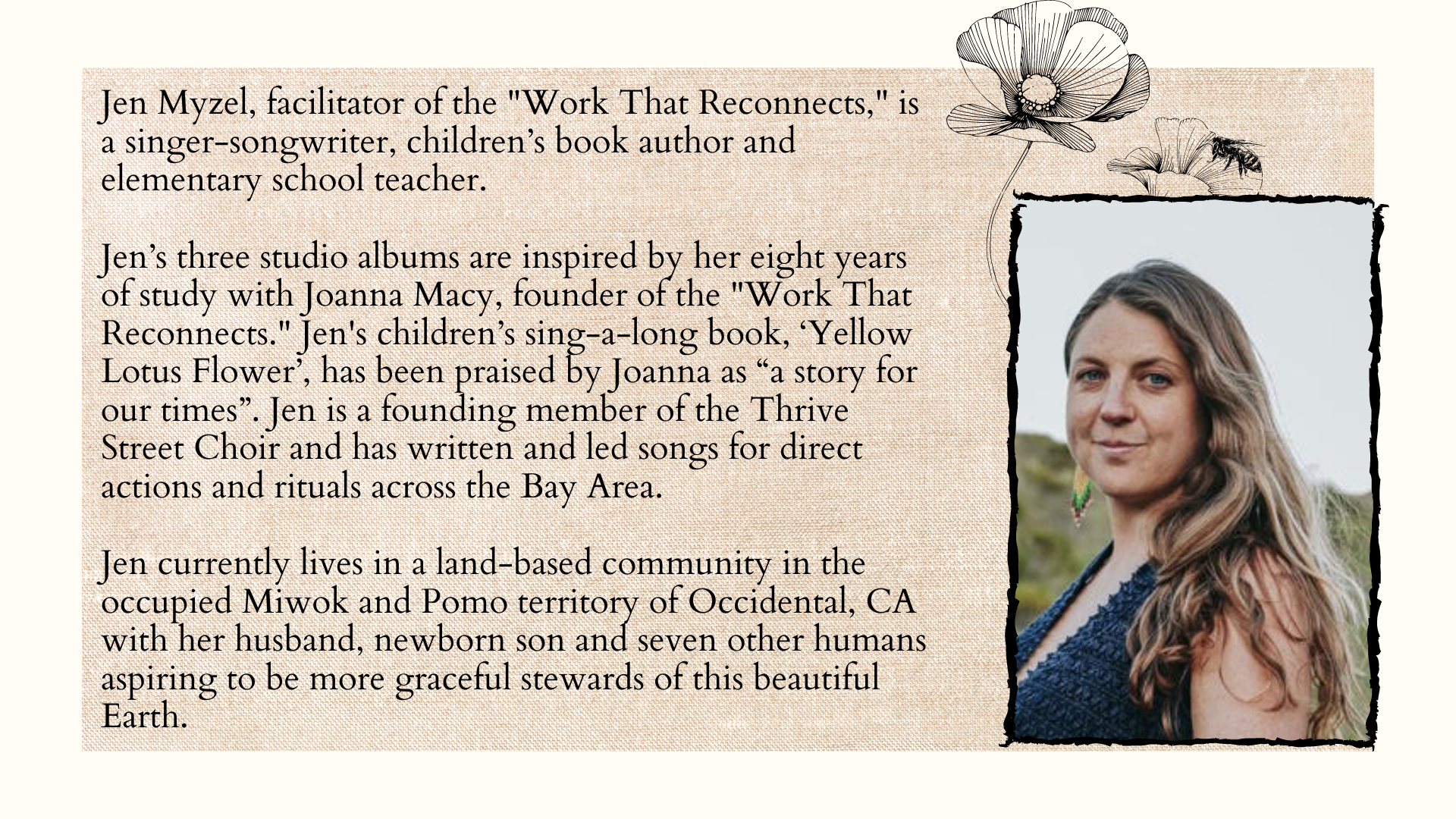 "We find our dignity and purpose in the Great Turning, as scales fall from our eyes and we see that transforming Nature into money doesn't work. We discover that a deep ecological vision can bring us through with all that we are and can become. We are cleansed by the truth of belonging to Earth."
- Joanna Macy

Frequently Asked Questions
When does the course start and finish?
The course runs live from June 28 - August 2, 2022, and each session is recorded, uploaded within 24 hours of the live session, and available forever!
How long do I have access to the course?
How does lifetime access sound? After enrolling, you have unlimited access to this course for as long as you like - across any and all devices you own.