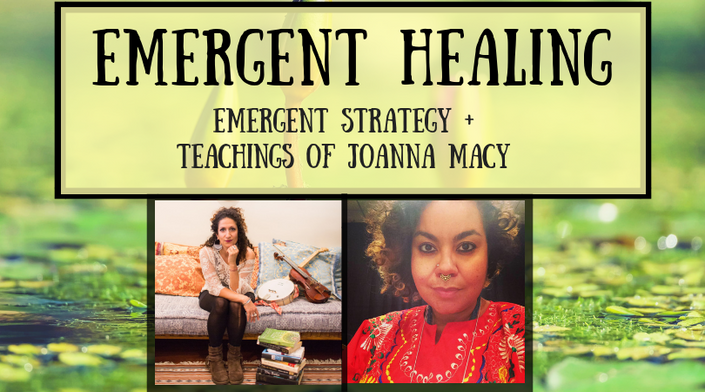 Emergent Healing
A 3-part Pre-recorded webinar exploring Emergent Strategy + Teachings of Joanna Macy, with Lydia Violet and special guest adrienne maree brown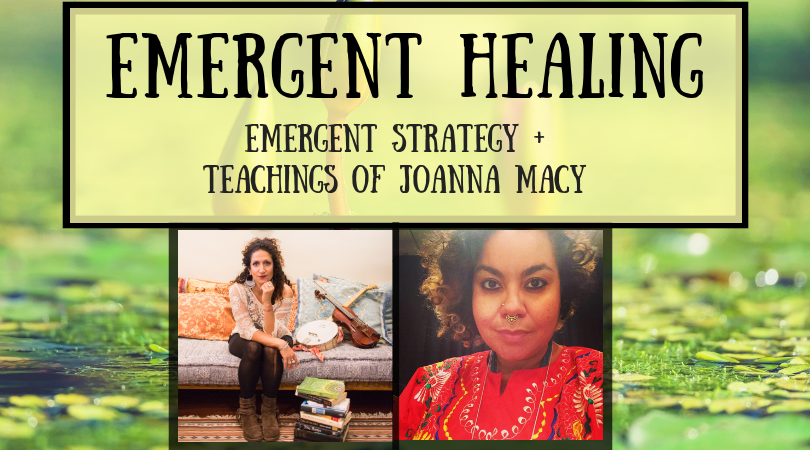 with Lydia Violet Harutoonian & special guest adrienne maree brown
a pre-recorded webinar
Joanna Macy and adrienne maree brown are revolutionary thinkers who offer us potent wisdom at this poignant planetary moment.
In this webinar we will explore teachings and strategies from brown's "Emergent Strategy" and Macy's "Work That Reconnects," two bodies of work that are being used internationally to conjure energy for action, community resilience, and healing.
We will explore:
Healing as an act of resistance
Inspiration from deep ecology, living systems, and biomimicry
Tools for honoring our pain for the world
Systems wisdom for equity and justice work
Nervous system hacks for living in radical uncertainty
In addition to a breakdown of brown's Emergent Strategy:
Fractals

Intentional Adaptation

Interdependence

De-centralization

Non-linear and Iterative Process

Resilience
"We have received an inestimable gift. To be alive in this beautiful, self-organizing universe – to participate in this dance of life with senses to perceive it, lungs that breathe it, organs that draw nourishment from it – it is a wonder beyond words. And it is, moreover, an extraordinary privilege to be accorded a human life, with this self-reflective consciousness that brings awareness of our own actions and the ability to take choice. It lets us choose to take part in the healing of our world." - Joanna Macy

"How do we turn our collective, full-bodied intelligence towards collaboration, if that is the way we will survive." - adrienne maree brown
Session 1 : Self-Care
In this session we will explore healing our home base, ourselves, as an act of resistance. Both brown and Macy speak to the miracle of being, the magic that can be remembered of being alive on a planet that is pulsing with life force. How can we observe and collaborate with the intelligence of that life force to cultivate health and well-being? How do we reclaim dignity and joy in the places we have been oppressed? How do we begin to heal burn-out, overwhelm, and stagnation? Here we will explore brown's elements of Emergent Strategy as they can be applied to personal regeneration.
"What we practice at the small scale sets the patterns for the whole system" - adrienne maree brown
"The power of choice is our nobility, our refuge. In both systems theory and Buddhism, choice-making is seen as definitive of the self. We discover who we are in our choices." - Joanna Macy
Session 2 : Society-Care w/ adrienne maree brown
Here we move from personal to relational, for we are never acting in isolation, but rather in an immersed network of relationships. Here we explore listening to human and more-than-human landscapes. When we listen we can identify oppressions at work in the system, pointing us towards our pathways to liberation. To know the wound is to know the medicine. We explore how to cultivate healing as we traverse the realities of our time, which can bring with them a need to grieve and transform. We deepen our understanding of intentional adaptation, interdependence, and resilience.
"Do you understand that your quality of life and your survival are tied to how authentic and generous the connections are between you and the people and place you live with and in?" - adrienne maree brown
"Our own pulse beats in every stranger's throat." - Barbara Deming
"Just as our pain for the world arises from our connectivity, so does our power." - Joanna Macy
Session 3 : Planet-Care
We find ourselves in the midst of a precarious moment for life on earth, where the future of 95% of planet life depends upon human awakening. How can we generate ecosystems of healing to meet the systems of suffering present in our world? How do we liberate our powers even in the most overwhelming moments? Joanna Macy teaches that just as our pain for the world arises out of our connectivity, so does our power. There is generative creativity that courses through living systems, giving birth to emergent solutions we could never generate in isolation. In this session we will connect the personal and planetary, and explore perspectives that empower us amidst the radical uncertainty of our time.
"…today, we are seeing people act together in a new way on behalf of life on Earth. Bodhicitta is manifesting collectively. Groups of people from all walks of life are acting in spite of the threat of social censure, personal injury, imprisonment, even death. Their motivation cannot be reduced to private gain, but it can be understood as manifesting a collective consciousness in defense of life on Earth." - Joanna Macy
"Emergence is beyond what the sum of its parts could even imagine." - adrienne maree brown
Registration --- $95
All sessions are pre-recorded and available to students indefinitely upon purchase.
Your Instructor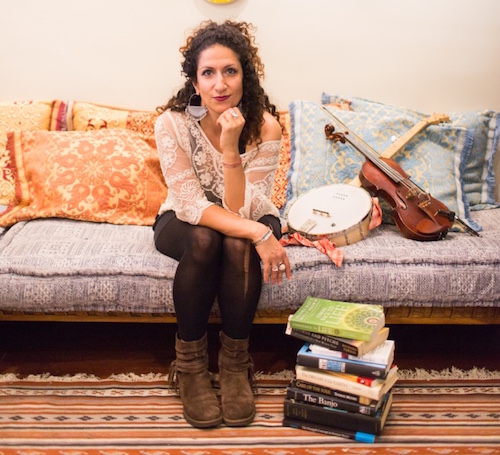 Lydia Violet Harutoonian M.A., has studied closely with elder and scholar Joanna Macy for the past decade, learning how we can metabolize our pain for the world into energy for resilience, action, and community. Lydia met Joanna while studying for her M.A. in Philosophy and Religion from the California Institute of Integral Studies, where she studied with other prominent thinkers such as Brian Swimme and Richard Tarnas.
Lydia also runs The Music As Medicine Project, a non-profit dedicated to creating access to music, music education, and Joanna Macy's work as tools for cultivating resilient cultures in our communities. www.musicasmedicineproject.org
Course Curriculum
~ Self Care
Available in days
days after you enroll
~ Society Care w/ adrienne maree brown
Available in days
days after you enroll
~ Planet Care
Available in days
days after you enroll
Frequently Asked Questions
How long do I have access to the course?
How does lifetime access sound? After enrolling, you have unlimited access to this course for as long as you like - across any and all devices you own.
What if I am unhappy with the course?
We would never want you to be unhappy! If you are unsatisfied with your purchase, contact us in the first 30 days and we will give you a full refund.