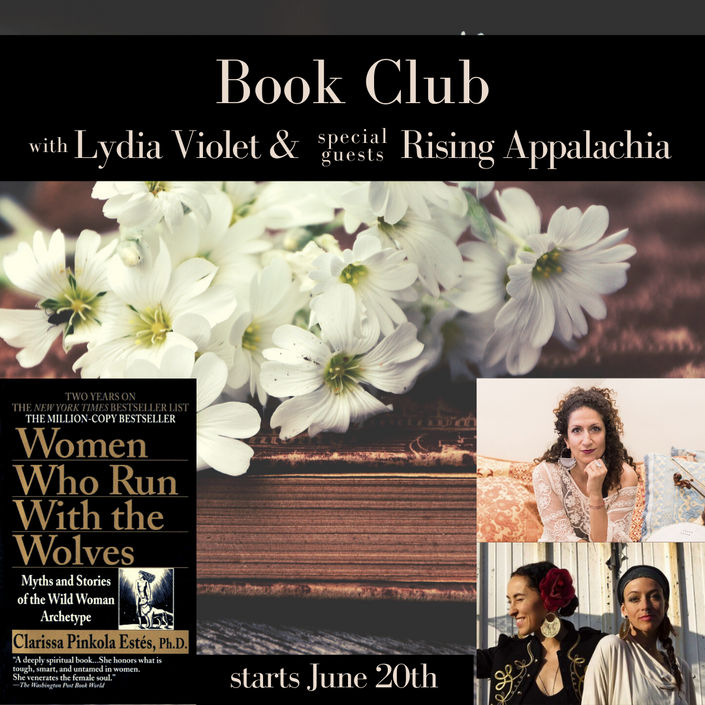 Women Who Run With the Wolves Book Group
Myths & Stories of the Wild Woman Archetype
Enroll in Course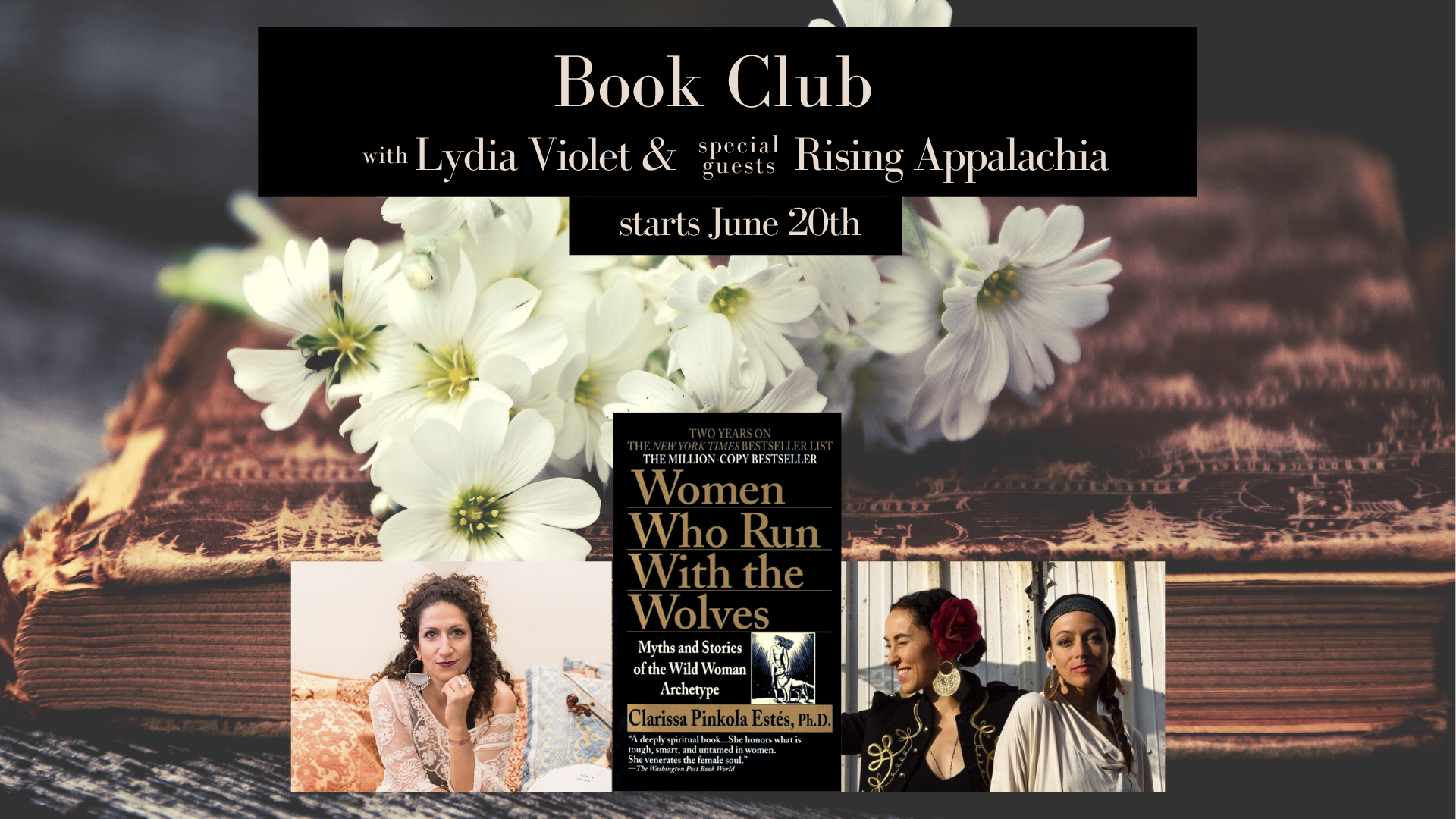 ---
June 20th- July 25th 2021

6 weeks : Sundays : 4-6pm PDT
with Lydia Violet & special guests Leah Song & Chloe Smith of Rising Appalachia
& somatic healer Karla Palomino
"We are all filled with a longing for the wild. There are few culturally sanctioned antidotes for this yearning. We were taught to feel shame for such a desire. We grew our hair long and used it to hide our feelings. But the shadow of the Wild Woman still lurks behind us during our days and in our nights. No matter where we are, the shadow that trots behind us is definitely four-footed." - Clarissa Pinkola Estes, Jungian psychoanalyst, poet, and cantadora
As we prepare ourselves for re-emergence into communities who have moved through one of the most transformative years in modern history, how can we integrate our instincts, intuitions, and somatic longings into our daily lives? How can we listen to and midwife that voice of calling that has been building, ready to be born?
In this 6-week book group, we will turn to the stories & deeper, archetypal patterns shared generously with the world through Clarissa Pinkola Estes' landmark book, Women Who Run With the Wolves, a handbook in soul-work and self-respect.
Iranian-American artist and scholar Lydia Violet Farshid-Harutoonian will use her 10+ years of study of philosophy, cosmology, and the realm of the archetypal to guide you through a rich self-discovery process, exploring the themes of initiation, life & death, erotic awakening, belonging, and resurrection. You will also explore ways of communing with the wild through the seasonal rituals, ancestral cultural reclamation, ecological literacy, and more.

And we will be joined in two sessions by Rising Appalachia's mystic-sister duo Leah Song & Chloe Smith. Leah Song will offer from her own in-depth study of story and ritual with our author, Clarissa Pinkola Estes, connecting creative inspiration with wild longing. Through their own communing with the muses of the wild, Leah and Chloe will share from their own experiences of dreams and blessings born from communion with Estes' timeless work.
We will also be joined by somatic coach & ritualist, Karla Palomino. Karla will offer students a mythopoetic embodiment journey to guide us into enlivening our inner world and dancing our wild into form.
This course is open to all genders, while centering the experiences of all women and non-binary folks. Cis and trans men are most welcome in our space together, as a wellspring for growth and understanding.
---
---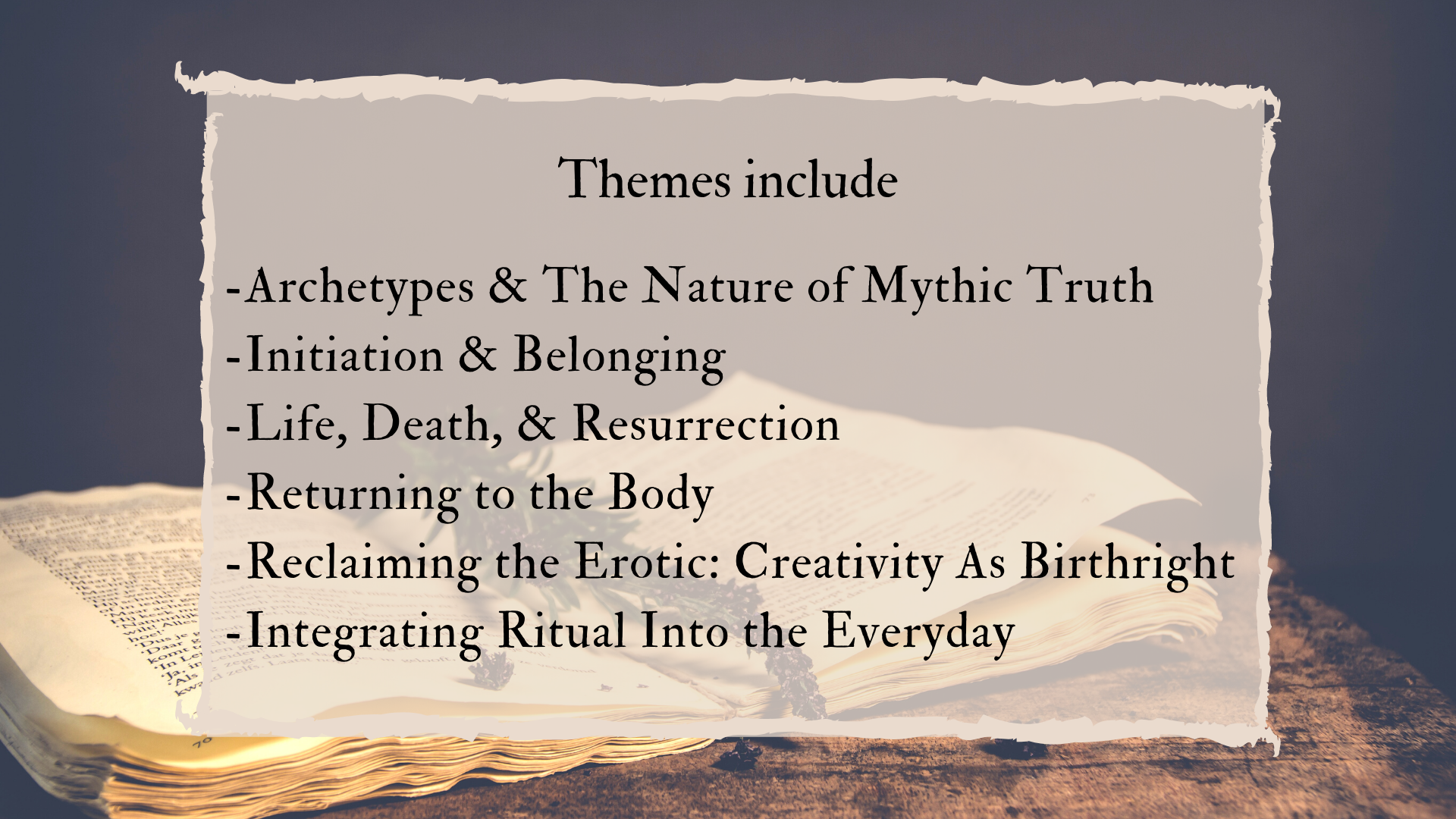 ---
Each 2-hour session will offer a 50 minute lecture, an experiential exercise, and Q&A.
All sessions will be recorded and can be watched anytime.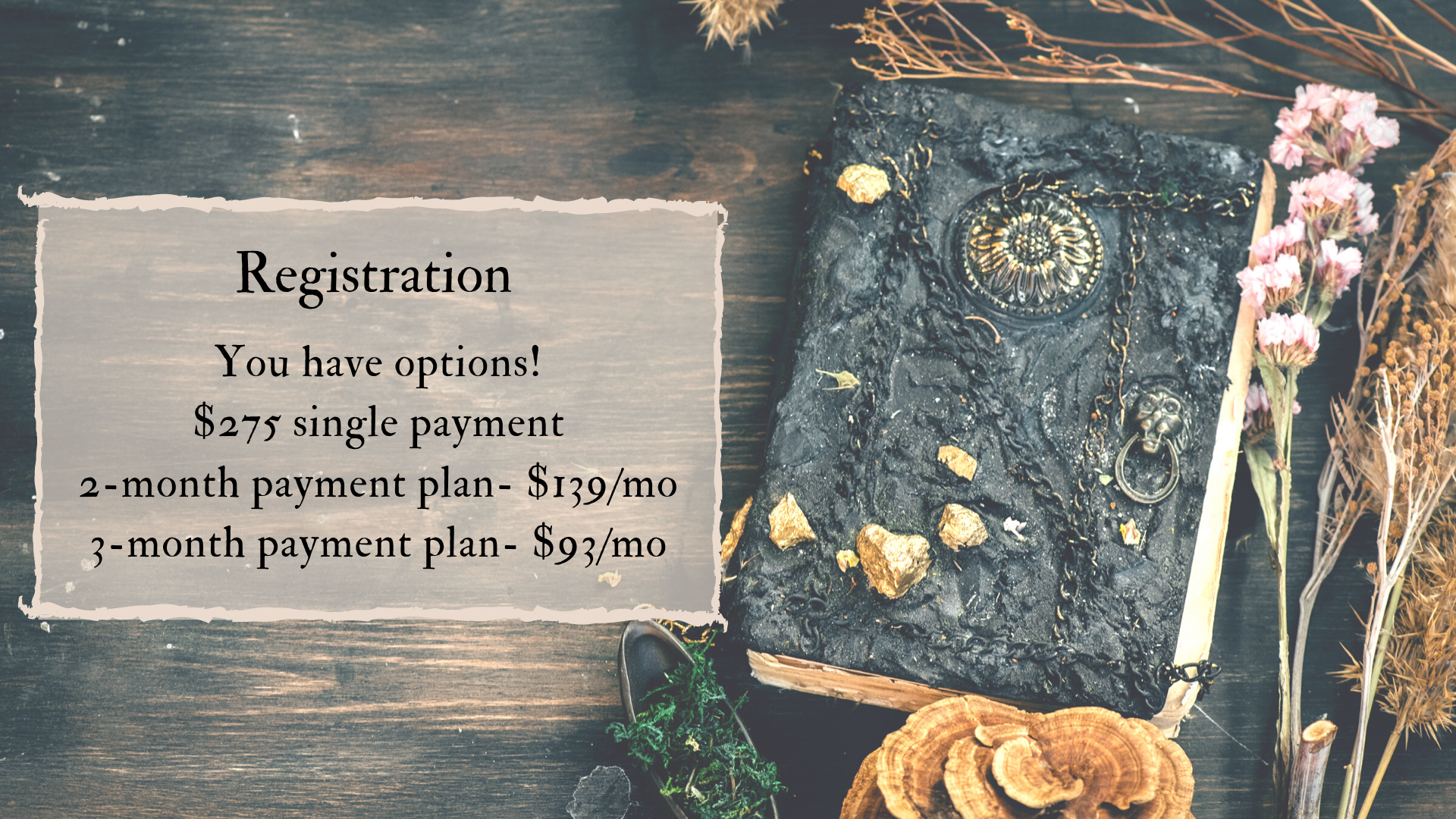 If you would like to apply for a scholarship, please just fill our this form https://forms.gle/zKxUG6toAtDYk57AA and we will get back to you soon!
Please feel free to send any questions to [email protected]

"I hope you will go out and let stories, that is life, happen to you, and that you will work with these stories... water them with your blood and tears and your laughter till they bloom, till you yourself burst into bloom."- Clarissa Pinkola Estes
---
About Our Facilitator
Lydia Violet, has an M.A in Philosophy, Cosmology, and Consciousness from the California Institute of Integral Studies, studying archetypal astrology, phenomenology, and ecopsychology. She has also studied dedicatedly with deep ecology elder and Buddhist scholar Joanna Macy for the past decade, learning how we can metabolize climate despair, eco-anxiety, and community traumas into energy for resilience, action, and community healing. Lydia founded School for The Great Turning to creates access to an education that will empower humanity's life-sustaining legacy, and to engage at the intersections of personal, ecological, spiritual, and political wisdoms to strengthen your purpose and encourage planetary healing.

Lydia is also an accomplished Iranian-American multi-instrumentalist weaving together Southern blues, American roots, and Iranian folk music traditions. With her live band she combines fiddle, banjo, and luscious harmonies to offer a soul-folk revival experience, bringing in a fresh wave of protest music. In the past year she has collaborated with world-renowned artists Climbing PoeTree, Rising Appalachia, and Lyla June. IG: @lydiavioletmusic
---
About Our Guests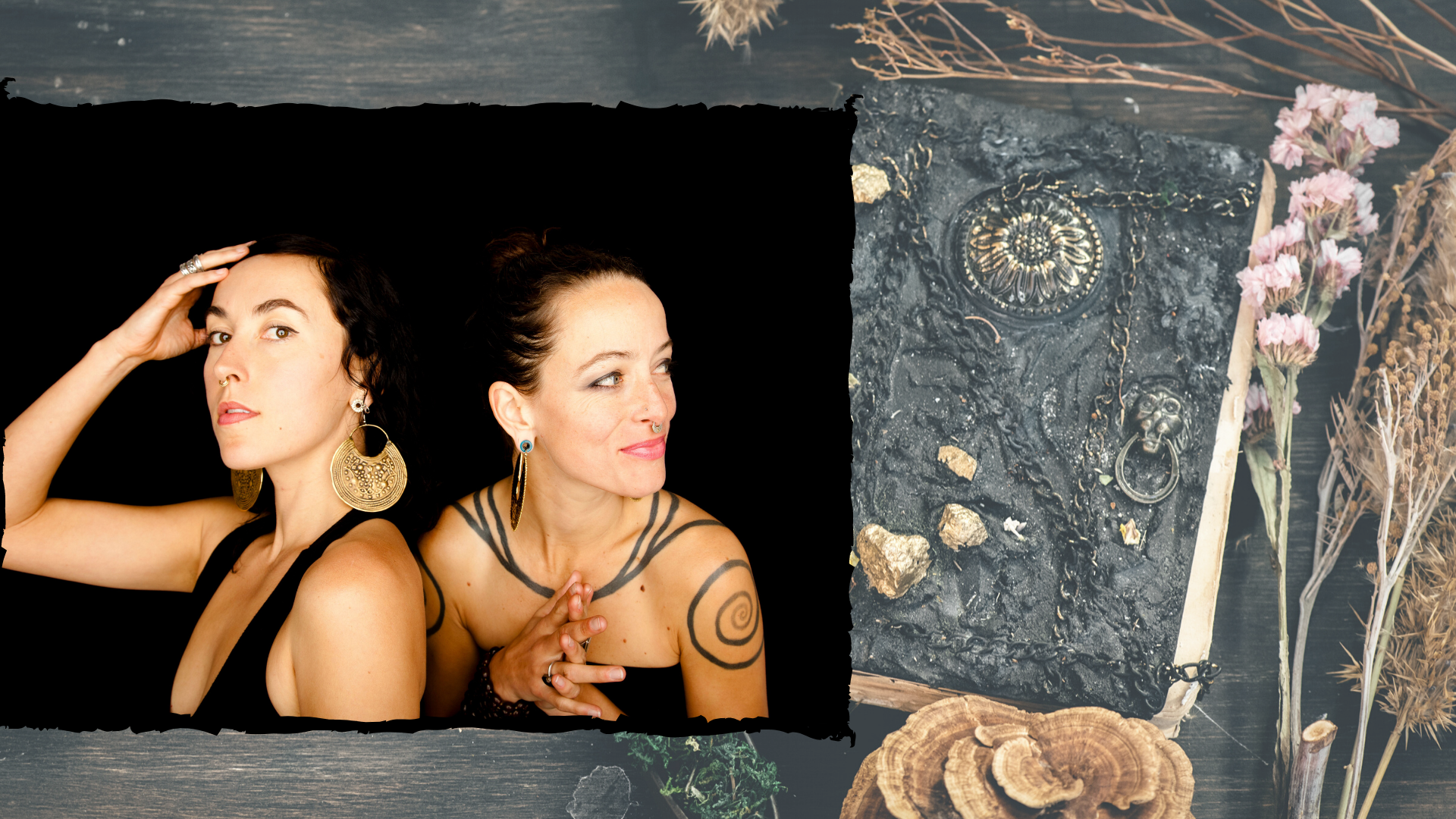 Leah Song and Chloe Smith, founding sisters of Rising Appalachia, have long witnessed themselves – by both choice and coincidence – carrying harmony into settings of upheaval and discord. Soon after their eponymous release in 2006, the siblings moved to New Orleans to assist in rebuilding efforts following Katrina. There they gained not only a deeper sense of connection to the roots of American music, but also an abiding sense of purpose as musicians. The band, which has now grown to include musicians David Brown on upright bass and baritone guitar, and Biko Casini on world percussion, has settled into its stride and purpose through creating original music with a mission, rooted in the traditions of folk songs, storytelling, and grassroots activism. The band manages to meld traditions and genres the same way Leah and Chloe blend their voices; it's casual, beguiling, and effortlessly singular. Their persuasive and powerful new genre of acoustic folk melds old-time music with a thick rhythm section, southern soul, West African instrumentation and an occasional Colombian love song. The diverse influences converge through the voices of Leah and Chloe, which go together as only two siblings' can.

Both onstage and off, Rising Appalachia exudes a sense of rootedness, playful exploration, and inspired action. Their sound and message suggest that voices and traditions brought together through song, may be one of the saving graces to a world in distress. In a time when the fabric of community and culture often appear to be unraveling, their interweaving of music and mission, old traditions with new interpretations, creates an atmosphere of contagious hope and bliss. IG: @risingappalachiamusic
---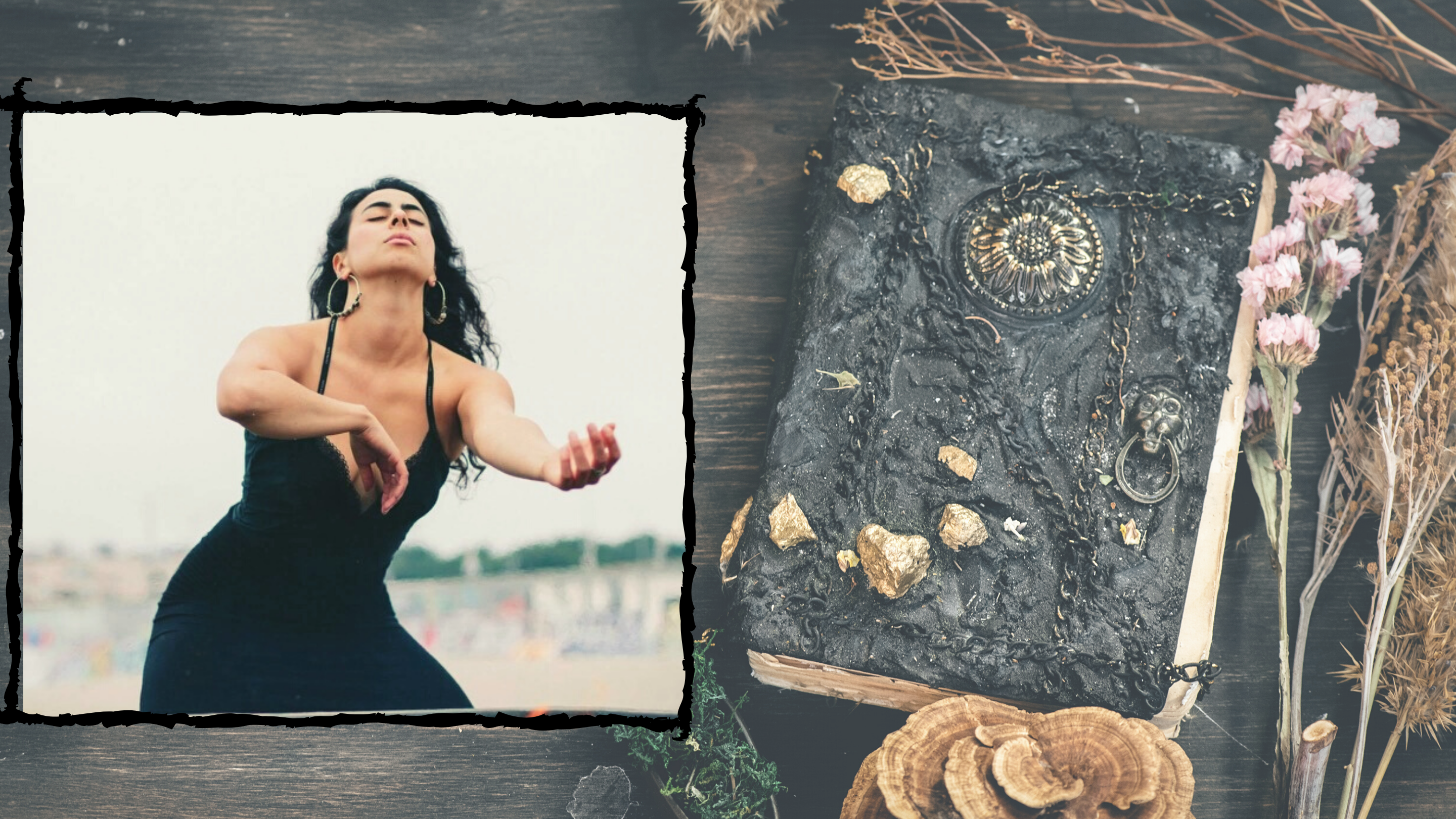 Karla Palomino is a somatic coach, ritualist and soul guide. She's in service to the Feminine, Truth, and Eros. She guides people into their deepest truth through underworld journeying, core belief work, inner parts work, embodiment practices, earth-based connection and body-centered coaching. Karla runs a 9 month group membership, Tierra Alma, where she takes self-identified female-bodied people on a descent journey through their bodies to discover the primordial wisdom of the Feminine. www.karlapalomino.com IG: karlapalomino_
Course Curriculum
The Nature of Mythic Truth
Available in days
days after you enroll
La Loba :: Bluebeard :: Vasalisa the Wise
Available in days
days after you enroll
Manawee :: Skeleton Woman :: July 11th
Available in days
days after you enroll
Frequently Asked Questions
When does the course start and finish?
The course runs from June 20th -July 25th 2021, with recordings available within 48 hours of each session!
How long do I have access to the course?
How does lifetime access sound? After enrolling, you have unlimited access to this course for as long as you like - across any and all devices you own.